2023 Draylen Mason Composer-in-Residence
KMFA Classical 89.5 announces Chicago-based, Brazilian-American female composer Clarice Assad as the 2023 Draylen Mason Composer-in-Residence. 
Clarice Assad will spend a week in residence with KMFA in late May, where supporters will get to hear some of her music, as well as some improvisation at the piano by the composer herself. While in Austin, Assad will mentor students from Akins High School, the Ann Richards School for Young Women Leaders, and Armstrong Community Music School. Students at the conservatory of Draylen Mason's alma mater, East Austin Prep, will participate in VOXploration, Assad's workshop experience that includes interactive exercises in which participants come together to make music by creating sound.  
As part of the initiative, KMFA, Classical 89.5 in Austin, Texas, has commissioned a new orchestral work entitled "Baião N' Blues" for its 2023 Draylen Mason Composer-in-Residence initiative. The premiere is scheduled for September 24th, 2023, featuring the University of Texas Symphony Orchestra, conducted by the esteemed Douglas Kinney Frost. This heartfelt composition is dedicated to Lou Ann and Bill Lasher, as well as the cherished memory of Draylen Mason (2000-2018)
40 Blackshear Elementary 2nd graders (along with a few teachers) and KMFA staff.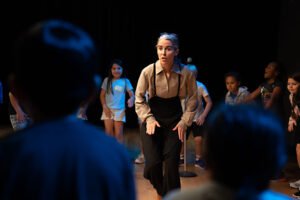 Workshops at the Richards School, the Akins Early College High School and East Austin College Prep 
11:00-Noon Clarice will be a guest on Midday Oasis with Dianne.
Fundraising evening with Invoke, including a VoxPloration session with the audience.