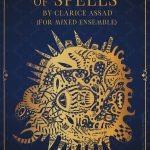 I have long been intrigued by anything unexplained with pure logic, so occult themes, witchcraft, and the fantasy world have long been companions of my imagination. The Book of Spells is a three-movement composition inspired by rituals that deal with magic, which is done to achieve a particular goal, righteous or wicked. Each movement explores a rite and follows the reasoning of a book I came across. The chapter sections are thematic, each focusing on assorted areas of interest: Chapter one deals with matters of the heart (Love and Relationship); Chapter Two is about bringing wealth and prosperity into one's lives. Chapter Three is about Health and well-being. Within each chapter, hundreds of spells teach the practitioner how to prepare and perform the rites, each for a particular purpose.
1. CHAPTER ONE: LOVE AND RELATIONSHIPS
The Siren's Seduction
Flute, Oboe, Bass Clarinet, Harp, and Viola
2. CHAPTER TWO: WEALTH AND PROSPERITY
Spell of Summon Greed
Flute, Oboe, Harp, Viola, Glass bowl, Musical Glass & Three small-sized marble balls.
3. CHAPTER THREE: HEALTH AND WELL BEING
A Spell for Global Healing
Flute, Oboe, Bb Clarinet, Harp, and Viola.