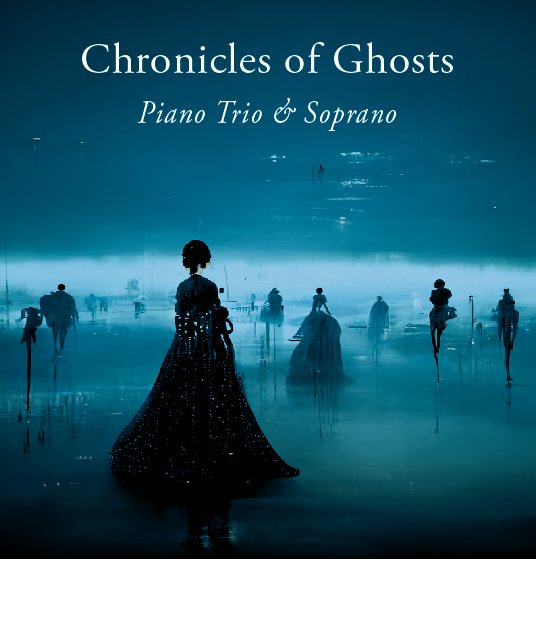 For Piano, Violin, Cello, and Soprano
Commissioned by the Beaver Island Performing Arts for its 2022 Baroque on Beaver Festival. Made possible by the generous support of the Charlevoix Area Community Foundation and Beaver Island resident Mr. Tim Turner.
Program Note:
Chronicles of Ghosts: Extraordinary Women of the 16th Century explores the lives of two women who lived during the Renaissance through storytelling and songs. La Malinche, a Nahua woman from the Mexican Gulf Coast, became known for contributing to the Spanish conquest of the Aztec Empire by functioning as an advisor to the Spanish conquistador Hernán Cortés and Agnes Waterhouse, one of the first women to be executed for witchcraft in England.  Both portrayals precisely showcase these women's feats and life facts as they appear in the history books.  However, the narrators exist in different places and times, each dealing with their torments as they unveil their connections to these distinct women.
This song cycle features narration, acting, and singing and reads like a book. However, it is also designed to be performed as stand-alone songs without narration or spoken text.
Special thanks to Andrea Santiago, Robert Nordling, Carolina Calvache, Matthew Thomas, Mary Carter, Sishel Claverie, Liam Kaplan, and Joyce E. Salisbury.
Contents
Prologue | Chapter I: La Malinche |Intermezzo | Chapter II: Malleus Maleficarum
---
Text and Translations
Text & Translations by Clarice Assad
PROLOGUE: Let us take you to the 16th Century, where you will meet three remarkable, yet distinct women who mediated, shaped, and battled an era dominated by religion,
fame, and an insatiable thirst for wealth. Innovative, artistic, and scientific movements were on the rise, and with them bold new ideas that would change the world forever. Individuals shed their conventions by the droves to pursue status, power, and riches. This was an international evolution that conquered the strict social systems that had been restricting people for centuries. And their gamble paid off, rewarding them with un- imaginable prosperity. But even as the world expanded, people went to war over religion and exploited indigenous resources and peoples, causing unthinkable agony.
This chapter will explore some of these developments as they are woven in the lives of two extraordinary women — Chapter One: La Malinche.
Chapter I: La Malinche
Our narrator comes from a distant future. She has a difficult life and decides to visit a seer to advise her about her destiny, only to discover that she is the reincarnation of la Malinche, which, as it turns out, is the source of her current life's misfortunes. She had been one of the leading players in the Span- ish-Aztec War along with Spanish conquistador Hernán Cortés and Aztec leader Montezuma in a past life. Born in Yucatán
by the name of Malinalle, she was sold as an enslaved person by her mother, who staged a funeral to explain her daughter's disappearance. Later, she was traded to the Spaniards, and became Cortés' interpreter, a guide to the region, an advisor, and his mistress. Without Malinche, this conquest would have been arduous or even impossible. Because of her act of turning her back on her people, she is, to this day, the villainess supreme
in Mexican history. In this lifetime, our narrator seeks help to understand why her present life is so full of tragedies and tries, in vain, to come to terms with her dreadful fate.
La Malinche
Una gitana me tomó las manos y leyó mi destino Ella me dijo que en otra vida
Yo fuí una mujer que a mi pueblo engañó
Ella dijo que vengo de una tierra distante
Y que mi nombre provoca temor,
que mis manos están bañadas con sangre Mis manos bañadas con sangre
¿Quien fuí yo? ¿Quien fuí yo? ¿Quien era yo?
Mi destino cambió
Quando un conquistador
Llamado Hernán Cortés
llegó a las tierras de Cozumel
y aunque traía catorce cañones y ciento diez hombres no eran suficientes para matar a la población
de veinti cinco milliones de personas
¿Quien fuí yo?
¿Cuál era el secreto del conquistador
su éxito y prosperidad?
¡Una joven de Yucatán entre otras veinte
Esclavas vendidas a los Españoles!
¡Yo era la más hermosa!
La más persuasiva
¡La más diplomática!
Entre todas, Cortés me eligió
Me convertí en su concubina
Yo conocía los idiomas
Y las hierbas y los mapas y las fuentes de agua y como intermediária
ayudé a la conquista del império Azteca
¡Sí fui yo! ¡Sí fui yo! La Malinche
Mi nombre de origen es Malinalli y mi legado es complejo
Si, por un lado yo traicioné
pero yo también fui una victima Mi propria familia me traicionó y me vendió como una esclava Sin remordimiento ni dolor
¿Por qué debo seguir sufriendo? ¿Por qué yo?
¿Por qué yo? ¿Por qué yo?
The Malinche
A fortune teller took my hands and read my destiny She told me that in another life.
I was a woman who deceived my people
She said I came from a distant land
And that my name provokes fear, that my hands are bathed in blood my hands are bathed in blood
Who was I? Who was I? Who I was?
My destiny changed
when a conqueror
Named Hernán Cortés came to the lands of Cozumel, And although he brought fourteen cannons.
And one hundred and ten men.
They were not enough to kill the population of twenty-five million people
Who was I?
What was the secret of the conqueror,
his success and prosperity?
A young woman from Yucatán, among twenty other enslaved women sold to the Spanish!
I was the most beautiful!
The most persuasive
The most diplomatic!
Among all, Cortés chose me
I became his concubine
I knew the languages,
and the herbs, and the maps and sources of water As a mediator
I helped the conquest of the Aztec empire
Yes, it was me! Yes, it was me! The Malinche
My name of origin is Malinalli, and my legacy is complex
I deceived my people,
but I was also a victim
My own family betrayed me and sold me as a slave Without remorse or pain
Why must I continue to suffer?
Why me? Why me? Why me?
---
Intermezzo
References to magic and sorcery are thousands of years old. But witchcraft prosecution, namely witches, that plagued the 16th Century, created a seismic shift for women in society. Why did witch hunts happen in the Renaissance, a period that celebrated rational thinking? Where did the paranoia come from?
Before 1486 the Church condemned witchcraft, but the penalties for practicing it were mild. That all changed with publishing the highly influential book, Malleus Maleficarum, written by German clergyman and inquisitor Heinrich Kramer. Translated as The Hammer of Witches, the book was a reflection of his obsessive fears about witchcraft, sorcerers, lust, demons, and…and women's sexuality.
It was his writings that persuaded the public that sorcery was a heresy. With the invention of the printing press in 1455, Kramer's accounts of witchcraft were filled with titillating details: women depicted in lurid sex with demons, women sacrificing infants, women flying on their broomsticks, and shapeshifting into wild animals. These stories circulated so widely that they became the first bestsellers of their time. Sadly, they were not read as fictional tales of the imaginative writer; instead, they were viewed as a stark warning, an authentic treatise of sorcery.
Panic spread among those who read the tales. According to Kramer, the remedy for those accused of witchcraft was torture and death. They would first extract a confession via torture and then punish them with the death penalty. Tens of thousands of women would be tortured and killed. The previous acceptance and acknowledgment of women's sexuality morphed into centuries of sexual repression and toxic fear that permeated the 20th Century. Women would disappear from the scene, recede into the background, and leave men in sole charge.
Chapter II: Malleus Maleficarum
We open our story with a chapter on Agnes Waterhouse. Agnes was the first woman executed for witchcraft in England in 1566. Her tale will be narrated by the ghost of her deceased sister, Elizabeth Francis. Francis, a doomed lost soul, incriminated Agnes to escape her own death. In limbo for centuries, the phantom of Elizabeth Francis tries to escape oblivion by endlessly reliving the past, struggling to piece it together. Yet the details elude her, thus trapping her in the eternal doom she is so desperate to break free from.
My sister, her daughter and I Three witches arrested in Essex Brought before the judges
to confess to witchcraft
Agnes, my sister, is charged
with the murder of her neighbor, Whose name I can't recall…
Oh, my failing memory!
but but But I remember
a black and white cat
at the heart of this story
Satan was his name
Oh, his foul deeds and the gore
Satan, the cat, sat nearby
while I simmered potions over the hearth One day, he spoke to me in a strange, hollow voice
asking for a drop of blood
He was a gift from grandmother Eve
who taught me sorcery
She said: "Prick your finger and give him your blood, And he'll hand you the world…"
I don't care for the world!
But I craved wealth
Satan told me to lay
with an affluent man whose face… I cannot place
I was with child, but he refused to wed Thus I offered my blood to the cat
and he killed the lad
He also told me which herbs
would kill my unborn child
Later, when I finally married,
I willed the cat to make my husband lame And said to Satan: Slay our baby!
I grew tired of Satan!
And gave him to Agnes! in exchange…
…for a cake!
Ah! What an odd, absurd trade!
She learned to control the cat's powers
and he killed her pigs, her neighbors' cows, and geese She kept the cat in a pot lined with wool
and he turned himself…
…into a toad!
Her daughter, what was her name…? …anyway!
She…found…Satan!!
while her mom was away
She desired to try the creature's powers! So…, when a naughty child's neighbor refused to share with her a piece of bread She invoked the beast, and shouted: "Satan, bestow upon me, your control!" And he promised to assist
If she surrendered her soul…
…which she did…
Where was I?
Satan, the murderous toad!
turned into a demon dog and fled
to haunt the twelve-year-old
And in her deposition against my sister, The girl said that the beast
threatened to kill her
but failed!
And as she ran, she asked the dog: "Who is your dame?"
He stopped and wagged his head towards Agnes' house
And this evidence sealed her fate…
Though I confessed to the killings, The proof against my sister
gave me a lighter sentence Though I was freed in exchange my fate was deranged
I would die all the same Executed as a witch, but without all the fame
Here in the dark where lost souls abide As centuries pass
I forget more faces
I forget more places
I forget more names I forget more
I forget
I forget
---
What is so special about the Renaissance?
This was an intense period of Innovative, artistic, and scientific movements on the rise, and with their bold new ideas, they would change the world forever. Individuals shed their conventions by the droves to pursue status, power, and riches. This was an international evolution that conquered the strict social systems that had been restricting people for centuries. And their gamble paid off, rewarding them with unimaginable prosperity. But even as the world expanded, people went to war over religion and exploited indigenous resources and peoples, causing unthinkable agony. 
---