Commissioned by the LA Guitar Quartet
Program Notes
In 2005, Clarice received an invitation to write an encore for a rare occasion: her father and uncle Sergio and Odair Assad were about to embark on a project with two members of the LA Guitar quartet, thus forming a special collaboration under a theme fittingly called "Music from the Americas." The program, which aimed to celebrate music from north and south America seemed like a promising one. However, the stars did not align and the tour was canceled before becoming a reality. Bluezilian, originally supposed to be the program's night cap, ended up in a drawer for years, until discovered by an all female Russian guitar quartet.
The piece made its debut at the prestigious Tchaikovsky hall and garnered over 100K views on youtube during its first month. Bluezilian was then discovered up by several other guitar quartets around the world, performed as written and as alternate versions for other instrumentations such as marimba trio. It remains one of Assad's most performed works for guitar ensemble to this day.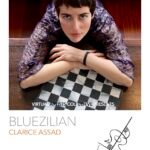 Bluezilian was recorded by the LA Guitar quartet (LAGQ Brazil) released on Telarc in 2007, and the Aquarelle Guitar Quartet (Spirit of Brazil) 2008.
Related Works